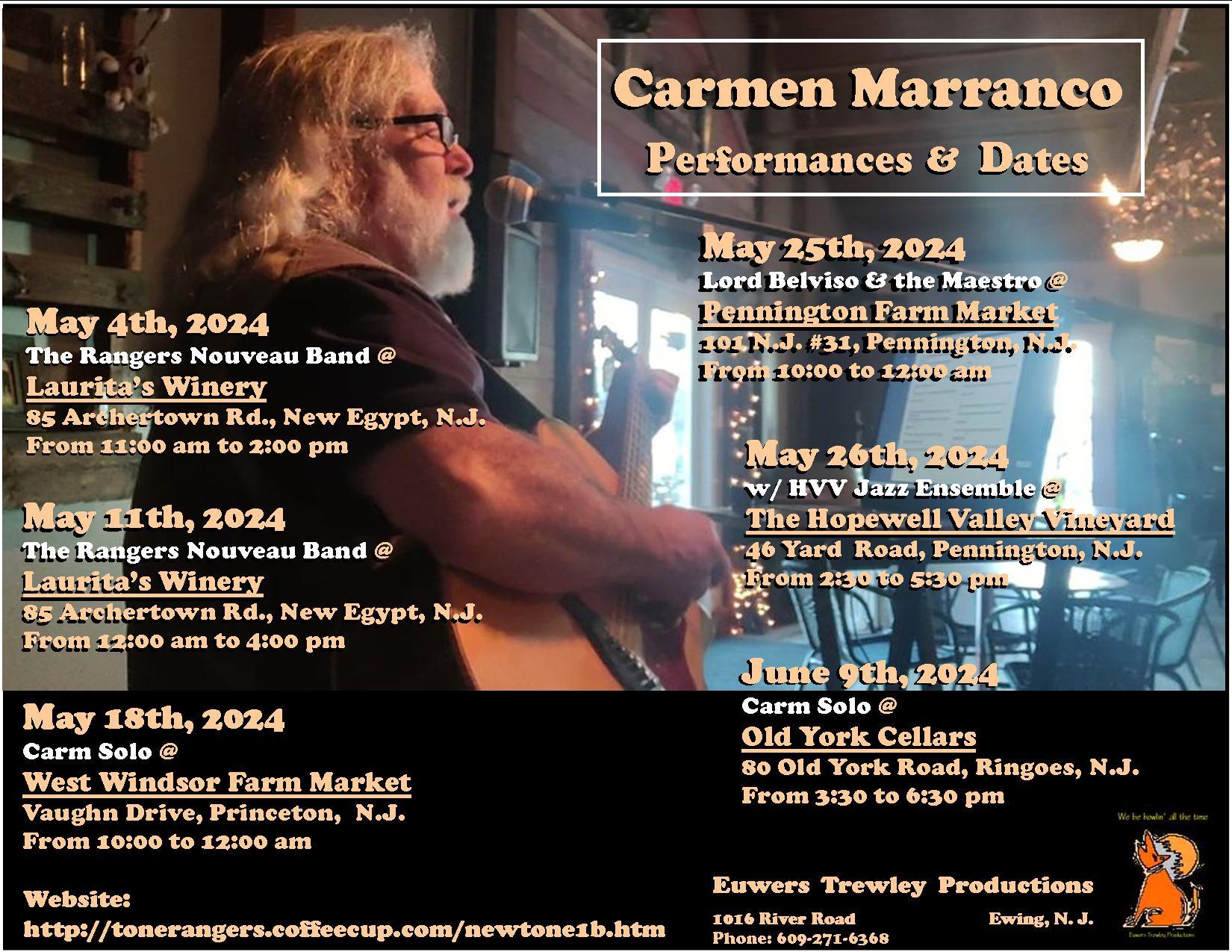 And 'The Rangers Nouveau Band'
The Rangers Nouveau performing @ Laurita's Winery
10/21/2020!


I happy to join up with old friends
Bob Crossey, Jim Matlack, George Greener
and Joe Kramer for some fun 'Rangers Nouveau' gigs!
You can find these guys playing in
The Roundabout Band as well!

The Rangers Nouveau performing @ The Halo Pub Princeton
8/14/2021!


George is back there, Really!
---
Upcoming Carm Events for 2023/2024
For Bookings Call Carm at (C) (609)-271-6368 or E-mail at euwers@aol.com
(Right click on venue below for Google map)
---
Hello,
I like to mix it up with a little Rock and Roll, a little Blues and a little bit Soft Jazz.
Music from The Allman Brothers band,Eric Clapton, B.B King, Chuck Barry, Alan Jackson,
Bad Company, Ray Charles, Johnny Mercer, Some Originals and more.
It's my
39th Year
I have enjoyed performing these many years and I really appreciate all who have come out over the time.
As I perform this year, I hope to have CD's for those
who would like to take the me home with them! Below are some old videos & pictures from performance over the years with the Tone Rangers band and John Dodd (John and Carm)

The Rangers Nouveau Live Music Concert Videos!

A variety of songs from some recent performances!

The Rangers performing Neil Young's
'Rockin' in the free world'!

The Rangers performing Bobby Troup's
'Rt. #66'!

The Rangers performing Billy Preston's
'Will it go round in circles'!

The Rangers performing Johnny Cash's
'Folsom Prison'!

The Rangers having fun with Jim Croce's's
'Walking back to Georgia'!

The Rangers performing The Beatles's
'She's a Woman'!

The Rangers performing Ringo Starr's
'It don't come easy'!

The Rangers performing Vinson & Chatmon's
'I'm sitting on top of the world''!

The Rangers performing Jimmy Cliff's
'Bright sunny day'!

The Rangers performing The Rolling Stones's
'Miss you'!

The Rangers performing The Beatles's
'For you blue'!

The Rangers performing B.B. King's
'Let the good times roll'!

Jim Matlack and Carmen Marranco Live Music Concert Videos!

A variety of songs from some recent of our performances!

Jim and Carm performing Bob Dylan's
'My back page'!
@ the 'Shady Brook Farm'

Jim and Carm performing Greenday's
'Time of your life'
@ the 'Shady Brook Farm'

Jim and Carm performing Bob Dylan's
'I will be released'
@ the 'Shady Brook Farm'

q7i7gQex2vE

Jim and Carm performing Timothy Schmit's
'Love will keep us alive'!
@ the 'Shady Brook Farm'

Jim & Carm performing The Beatles's
'Norwiegian Wood'
@ the 'Shady Brook Farm'!

Jim & Carm performing Chad & Jeremy's
'Summertime'
@ the 'Shady Brook Farm'!

Dave SanSoucie & Carmen Marranco Live Music Concert Videos!

Dave and Carm entertaining the fine audience!

Dave and Carm performing Robert Earle Keen's
'Goin' Down in Style'!
@ the Princeton Halo Pub

Dave and Carm performing Bob Dylan's
'My Back Page'
@ the 'Princeton Halo Pub'!

Dave and Carm performing Bob Dylan's
'Bucket of Rain'!
@ the Princeton Halo Pub

Dave and Carm performing Bob Dylan's
'Bucket of Rain'!
@ the Princeton Halo Pub

Dave and Carm performing Elton John's
'Your Song'
@ the 'Princeton Halo Pub'!

Dave and Carm performing Dave SanSoucie's
'Long cool highway'
@ the 'Princeton Halo Pub'!

Carmen Marranco Solo Live Music Concert Videos!

Carm takes it to the stage by himself!

Carm w/ Bud Belviso performing B.B. King's
'Let the good times roll'!
@ The Iron Plow Winery

Carm performing Eric Clapton's
'Watch out for Lucy'
@ the 'Terhune Orchard'!

Carm performing George Harrison's
'Devil & the deep blue sea'!
@ Cooper's Riverview

Carm performing from 'Pinocchio'-
'You got no strings on me'!
@ The Office

Carm performing Billy Preston's
'Nothing from Nothing'
@ the 'Laurita Winery'!

Carm performing Jerry Jeff Walker's
'Mr. Bo Jangles'!
@ Cooper's Riverview

Some Tone Rangers Band Live Music Concert Videos!

Some nice older Tone Ranger's clips

The Rangers performing Coco Montoya's
'Cool Like Dat'!

The Rangers performing The Eurhythmic's
'Here comes the rain again'!

The Rangers performing Bill Wither's
'Use Me Up'!

The Rangers performing J.J. Cale's
'Tulsa Time'!

The Rangers performing Curtis Mayfield's
'People Get Ready'!

Right click!

The Rangers performing 'Tore Down'!

(Ya' gotta turn the volume up a bit on this one)

The Rangers performing Clapton's
'Lay down Sally'!

Right click!

Live @ Fran's Pub, New Hope, Pa.




Video By Bette Marranco

The Rangers play Jackie Wilson's
'Your Love'!

Right click!

Live @ Fran's Pub, New Hope, Pa.




Video By Bette Marranco

Carm w/ Harmonica Hinds & Ed Taylor, Jr.
@ Buddy Guy's "Legends", Chicago,Il.!

Videos by Bette Marranco

The Windy City's best music store!

While in the Asheville, NC. area you must visit....

And, if you're ever in Edinburg, Scotland (really cool city), Check out.....

---

For a tasty good time click here for the "BIG BARN" at Halo Farms,
970 Spruce Street, Lawrence Township, N.J.
Sponsor of 'PubFest 2024' at the Halo Pubs in
Princeton Borough & Hamilton Township, N.J

---

Carm's Demos

Click the songs below for a demo

---

Just a couple of tree Huggers!

In addition to the normal electric mentality, John and Carm
are branching out to add a little diversity to the Tone Rangers Act.
We're going Wooden, Acoustic, Unplugged or Au Natural!
Also, a little keyboard action to fill out the sound. And, we bring
out our friends Bert and Ernie to give us just a little rhythm kick.
Check the dates below to see where we might show up as an
acoustic act in a Cafe or Bookstore near you.



Live at Hopewell Valley Winery
in Hopewell Twp., N.J., March, 2010(photo by our Friend Ro)




Live at Wednesday On Warren Festival

Trenton, N.J., October 3rd, 2007

(photo by Mike Mancuso of The Trenton Times)

Becoming a tradition in the city of Trenton, The Capital City
Farmers Market celebrates Fresh food suppliers & craft makers
@ the Mill Hill Park and brings a great deal of enjoyment to the
people of downtown Trenton, N.J..

John and Carm are regulars at the two Halo Pubs located
in Princeton and Hamilton Township (see links on this page).
We enjoy entertaining the ice cream eating crowds. We also
like to help the owner Jerry Reilly with his charitable
donations to camps for kids with disabilities.



Live at Halo Pub in Hamilton, N.J.
September, 2019


The Rangers @ the Halo Hamilton March 2018

photo by Fred Fishkin

Matt Noonan teaching that cymbal a thing or two about rhythm!
He keeps it tight for the crowd and the band! Thanks to all who
come out and join us in fun and song!

---

There comes a time in a musical groups career when
the world recognizes the talent, the style, the hard
work and the joy of performance that so many have
come to love. In the October 2008 issue of 'Time'
you will find out all there is to know of these two
rock and roll giants. Laugh with their joy, cry with
their hard ships and hear about the antics that span
a lifetime of music.

(Looks pretty real doesn't it?)

---




Checkout the You Tube Videos of John & Carm at
the Fedora Cafe & Trenton Farmers Market

John & Carm performing Jesse Fuller's
'San Francisco Bay Blues'!

John & Carm performing The Band's
'The Weight'!

John & Carm performing Van Morrison's
'Wild Night'!

John & Carm performing Bob Dylan's
'Rainy Day Woman #12 & #39'!

John & Carm performing Bill Wither's
'Use Me Up'!

John & Carm performing Bob Dylan's
'Don't Think Twice!

John & Carm performing Marc Cohn's
'Walking in Memphis'

---




| | | |
| --- | --- | --- |
| | Come, see where we're playing! | |

November 2023